Some of the best memories your kids will have of their childhood is when they were able to have fun and bond with their family.  Hoop Pros creates the opportunity for those memories to happen.  
COURTS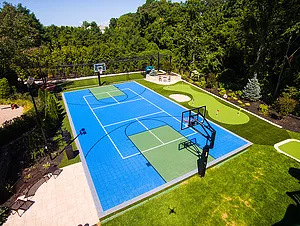 Hoop Pros installs the most innovative basketball court system on the market today. With its patented interlocking system and endless customizable options, VersaCourt provides a uniform, durable and versatile surface for your home. With the durability to last through many years of Houston weather.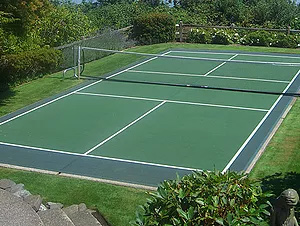 Hoop Pros tennis courts provide the ultimate high-performance, low-maintenance surfacing solution for homes and backyards. VersaCourt has been certified by the International Tennis Federation as a fast court pace surface. Visit our Tennis Court FAQ's. Contact Matt to Request More Information
EVERY MEGASLAM HOOP INCLUDES PADDING ON BACKBOARD &
FOR THE BASE POLE. NO ADDED COST!
BASKETBALL HOOPS

CONTACT US
Follow us on Instagram & Facebook
Locations
NOW SERVING ALL OF TEXAS!
Bryan / College Station
2130 Harvey Mitchell Pkwy S #10102
College Station, TX 77842
Houston
17210 Warren Ranch Rd
Hockley, TX 77447
Testimonials
Hoop Pros did an amazing job building our beautiful basketball court.  The owner "Matt" is a true professional who was eager and engaging with us during the entire construction process.   This investment will bring lots of family memories for years to come.  May God continue to bless you and your family.
Matt and his crew did an awesome job installing our new basketball goal in our backyard.  I highly recommend working with him to find the best goal for your needs.
This company is great. If you are thinking about doing any additions to your house such as a basketball court these are the guys you need to call. Matt and his team do a tremendous job. When I contacted them they were extremely fast on getting back to me regarding questions and pricing, and when my wife and I finally decided to pull the trigger they were very fast and did a great job. Before I gave them the job I thought about doing it myself but after I talked to Matt I realized that they were extremely professional and this was no easy job. They did a great job and truly exceeded our expectations, highly recommend them.
Matt & his company installed the 72 inch mega slam system with excellent professionalism & efficiency! I can't wait for the Versa court completion on my driveway to legitimize the true basketball court experience! HoopsPro is the bomb dot com!! Thanks for helping my family fulfill a vision of practice time together ! Amazing customer service , personal attention & overall knowledge & skill !!
Our experience with Matt Ward at Hoop Pros was second to none. Matt sets the tone with great communication as to when he's coming and exactly what he's doing. As for the actual basketball goal, we got the MegaSlam 72 and it's like having a regulation NBA goal in your driveway. This thing is built like a tank and doesn't budge even when the kids lower it so they can dunk and hang on the rim. I did extensive research on the competition and there's no comparison, the MegaSlam line of goals are built better than the rest. The goal is extremely easy to raise and lower, even small kids can do it. Thanks to Matt and his team, we couldn't be happier with our purchase.