BASKETBALL COURTS
VersaCourt is the most innovative basketball court system on the market today. With its patented interlocking system, VersaCourt provides an exceptionally uniform and durable surface, which allows for intensive activity. In addition, our courts are constructed from ¾" shock absorbing tiles that reduce fatigue, which means that players can play better for longer.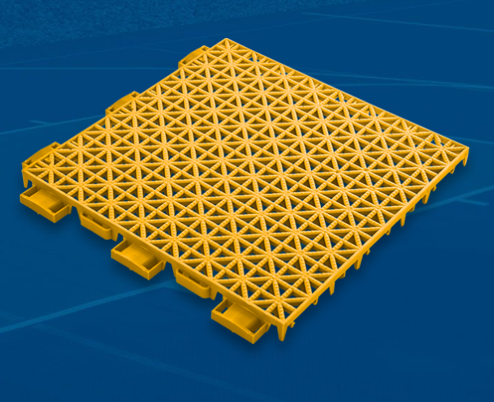 Low Maintenance
Easy to clean with broom, hose, or leaf blower.

Backed by Warranty
Offering limited and lifetime warranties for VersaCourt systems.

Superior Grip
Unique surface profile offers superior grip and traction.

Up to 50% Cooler
Tile surface stays up to 50% cooler than concrete or asphalt.
Unmatched Durability
Will stand up to aggressive play and harsh weather conditions.

Wide Selection of Tile Colors
Tile is available in a wide variety of color options.

Completely Customizable
Add your favorite game lines, designs, and logos. 

Suspended Surface
Provides forgiveness for players' knees, joints, and lower backs.
CUSTOM BASKETBALL COURTS
While we offer standard court sizes, the majority of our customers choose to customize their courts. You can choose from a wide selection of color options, add a variety of game lines and even include the logo of your favorite sports team.
SMALL COURTS
(Click to expand)
HALF COURTS
(Click to expand)
Width: 44'3″
Length: 28'2″
Sq Ft: 1,226
Tile: 1,748
Ramps: 174
Min. Base Dimensions: 44'5″ x 28'4″
Width: 45'11"
Length: 29'11"
Sq Ft: 1,374
Tile: 1,922
Ramps: 182
Min. Base Dimensions: 46'1″ x 30'1″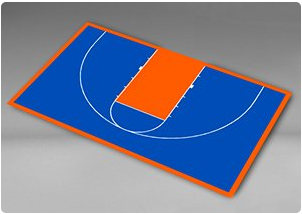 Width: 49'4″
Length: 30'9″
Sq Ft: 1,517
Tile: 2,120
Ramps: 192
Min. Base Dimensions: 49'6″ x 30'11"
Width: 59'5″
Length: 30'9″
Sq Ft: 1,827
Tile: 2,552
Ramps: 216
Min. Base Dimensions: 59'7″ x 30'11"
FULL COURTS
(Click to expand)
Width: 35'9″
Length: 65'4″
Sq Ft: 2,336
Tile: 3,282
Ramps: 244
Min. Base Dimensions: 35'11" x 65'6″
Width: 44'3″
Length: 75'6″
Sq Ft: 3,341
Tile: 4,676
Ramps: 286
Min. Base Dimensions: 44'5″ x 75'8″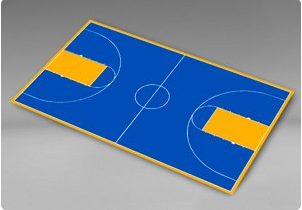 Width: 51'0″
Length: 83'11"
Sq Ft: 4,280
Tile: 5,988
Ramps: 322
Min. Base Dimensions: 51'2″ x 84'1″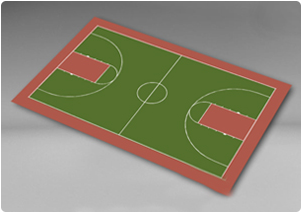 Width: 59'5″
Length: 94'11"
Sq Ft: 5,640
Tile: 7,888
Ramps: 368
Min. Base Dimensions: 59'7″ x 95'1″