VersaCourt ball containment fencing is more visually appealing and safer than chain link; offering a forgiving resistance when impacted by aggressive play. Built to withstand any environment, our netting is highly functional and visually superior to other fencing.
Netting is #420, is UV and weather treated with sewn nylon top and bottom edges. Posts are 1.9″ O.D. 16 gauge black powder coated steel with heavy powder coated cast fittings. Fencing is available in standard 10 ft. tall height.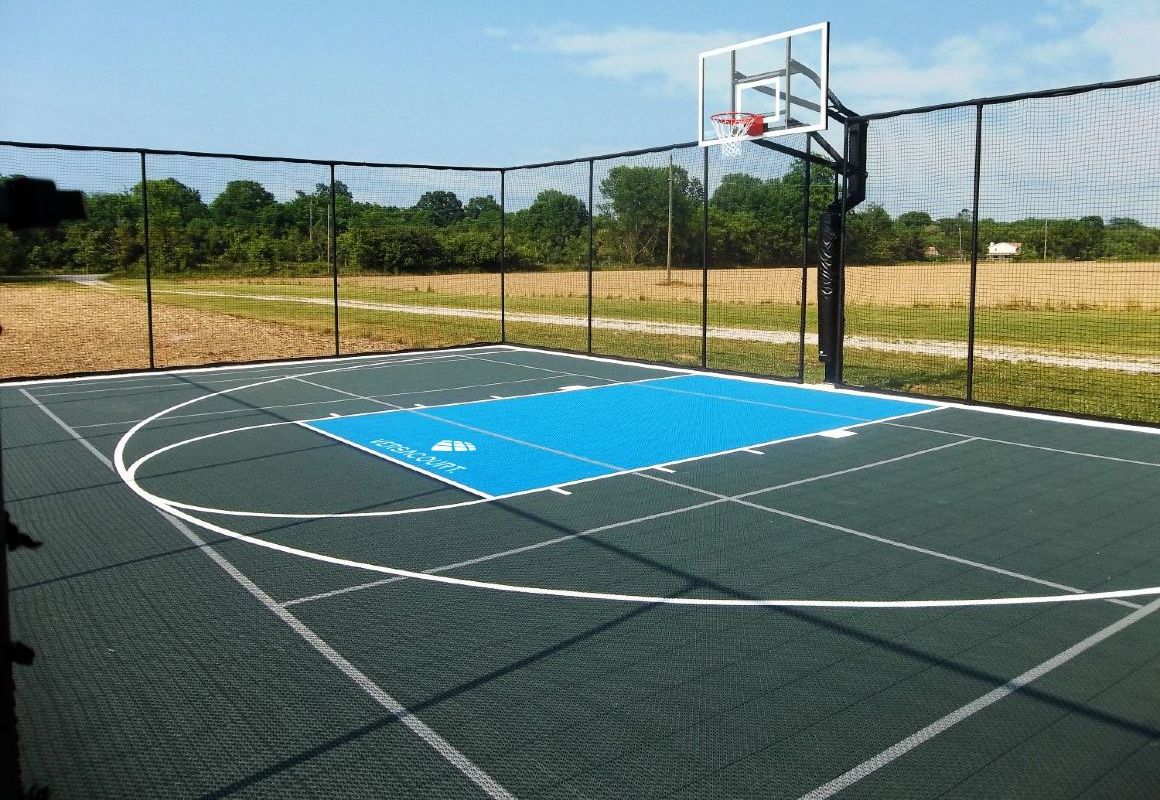 A VersaCourt rebounder net is an awesome addition to nearly any court.  This multi-functional training aid is perfect for practicing of tennis as it gives a very realistic ball response that allows the player time to set up and react to each shot…much the way they would do in a real game.  In fact, tennis coaches praise our tennis rebounder system saying it is an excellent tool for young players to practice ground strokes by themselves, while providing for a good physical workout at the same time.
However, the rebounder net's functionality is not limited to tennis, it is often used for shooting soccer balls, hitting slapshots, flinging lacrosse balls and even simulating give-n-go's while heading to the basket.
SPECIFICATIONS
Heavy 1.9″ O.D. 16 Gauge Black Steel Powder Coated frame
Net is heavy all weather 7/8″ Sq Mesh #420 HTTP
Heavy Duty Long Lasting Bungee Cords
12″ Bottom Skirt (side skirts available upon request)
Includes all hardware and fittings
SIZES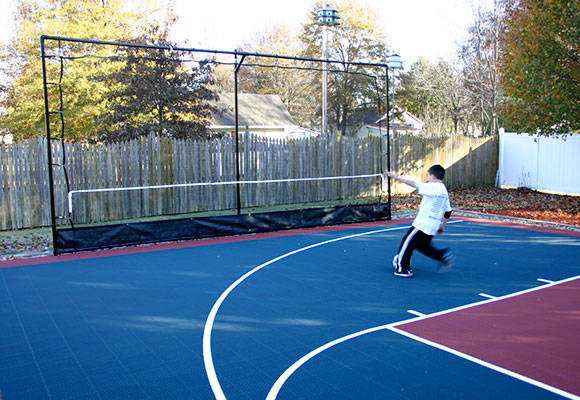 Add lighting options to your court so that you can continue to play on after the sun goes down. VersaCourt offers premium, energy efficient, LED lighting systems that are comparable to (if not brighter than) typical 400-watt MH light fixtures.
PREMIUM LED LIGHTING SYSTEMS
Energy efficient – consumes only 37.5% of the power of similar 400 Watt MH fixtures
Slim, compact design
Weather, shock and vibration resistant
No mercury, UV, IR or other deleterious radiation
Long lifespan ~45,000 hours, 1 year warranty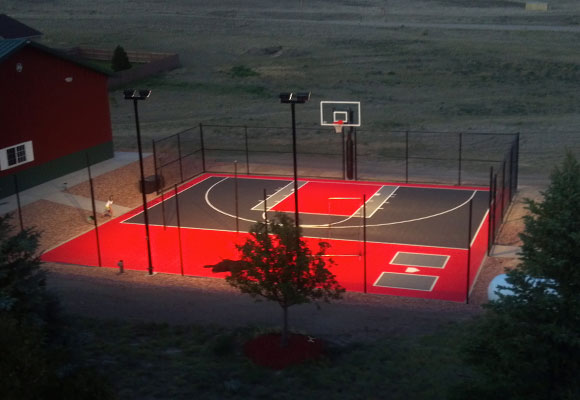 In addition to offering a wide variety of tile colors and game lines, we also offer adjustable net systems.  These nets can be quickly raised or lowered so you can go from serving a volleyball to playing tennis in a matter of minutes.
Available in Steel and Aluminum options.
Available net sizes from 22″ to 42″, so that no matter how large your court is, we will have a net to accommodate it.
MULTIPLE POST SYSTEMS:
Game Pole to Game Pole
Game Pole to Basketball Pole
Light Pole to Light Pole
Light Pole to Basketball Pole
Game Pole to Light Pole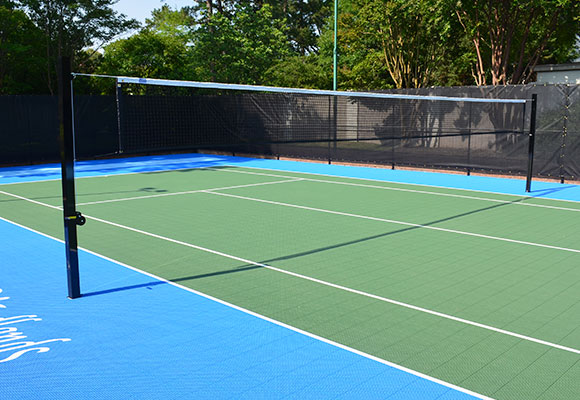 CREATE YOUR OWN MULTI-SPORT GAME COURT
One of the best ways to maximize the value of your new court is to outfit it with the lines for multiple sports or games.
DESIGN
Our designers can work with you to determine the placement, color and size of different line options that will work for your court.  In many instances, we will use different colored lines for different games or adjust the standard sizes to get them to fit on your court.
COMMON LINE PACKAGES
Half Court Basketball
Full Court Basketball
Full Court Tennis
Pickleball
Volleyball
Shuffleboard
Futsal
Hockey Goal Creases
Badminton
4 Square
Hopscotch
Awana Circle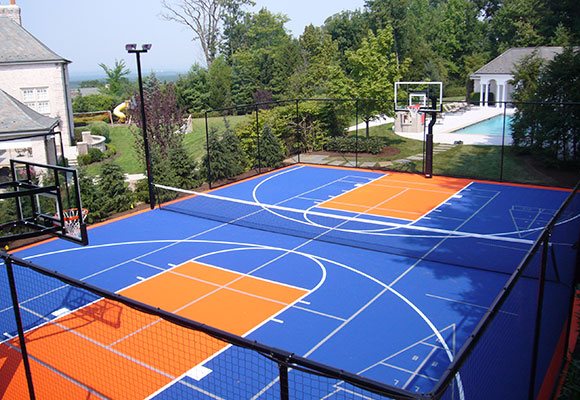 From basic one-color logos to intricate, multi-colored designs, our capabilities are extensive.
Plus, all logos are pre-painted in our warehouse using proven techniques to ensure the highest quality and accuracy.
COMMON EXAMPLES INCLUDE:
Team Names & Mascots
Family Initials
School Crests, Names & Mascots
Facility Names & Logos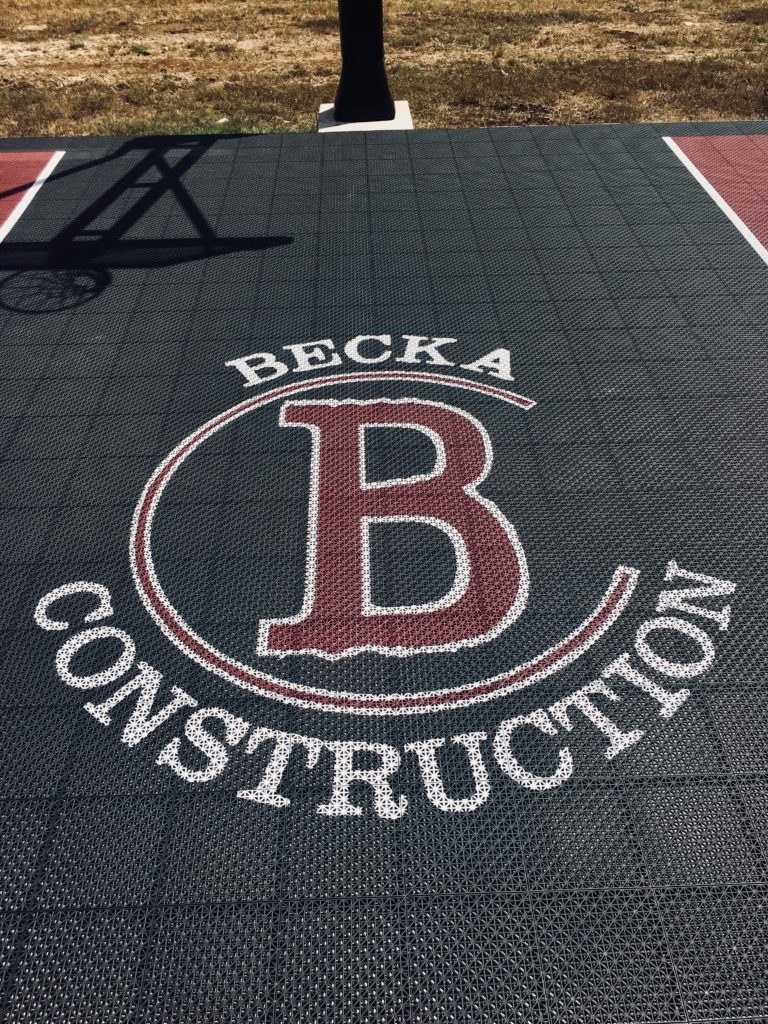 With the Game Light® and Net Protect® on your in-ground Mega Slam Hoop, you get a superior lighting system and the best loose-ball defense to keep your game going all day… and night. Both of these accessories fit any in-ground Mega Slam Hoop that uses a 12″x8″, 8″x6″, 6″x6″ or 5″x5″ main pole. (Patent pending.)
COMPATIBILITY
This Game Light® + Net Protect® Combo works with these systems.
MegaSlam XL                                 MegaSlam 72                                 MegaSlam 60                                 MegaSlam 54
FX Pro                                              FX 72                                               FX 60